In the North of Jordan there are many different desert castles. These castles were built in the 6th and 7th century. Most of the castles are on the ancient trading routes and scientists are still not sure for which purpose the castles are built exactly.
Amra Castle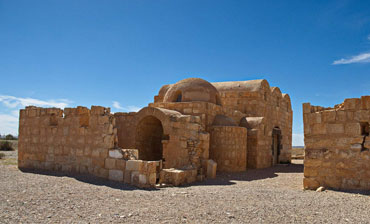 Around half an our driving from Amman. A small castle, but one of the most famous; with unique paintings and fresco's with erotic images, Greek gods and signs of the Zodiac. Nowadays, this castle is UNESCO world heritage.
One of the best preserved monuments, is a UNESCO World Heritage Site. Its interior walls and ceilings are covered with lively frescoes, and two of the rooms are paved with colorful mosaics.
Kharanah Castle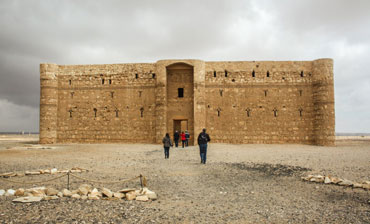 Around 10 minutes driving from Qasr Amra you'll find this beautiful castle. It is, together with Qasr Amra one of the best preserved castles.
While it looks like a fort, it's still questioned to be a protecting fort or a stop on the ancient caravan routes.
Other castles
There are many other castles in the North of Jordan. Take a guide with you to find them and show you around!
Um al Jimal.
Qasr at Tuba.
Qasr Burque.
Qasr Aseikhin.
Qasr Uweinid.